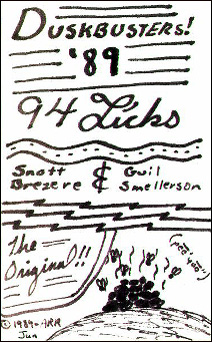 Information: Jun 1989. 1:08:45.

Major Characters Introduced: Snott Brezere, Guil Smellerson, The Announcer, Rambo Lady, Dr. Hooloovoo Duke, Pea Bo Steele, Eugene F. McGuilicutty, A, Dead Guy, Bubba Williams-Simpson-Green, Jim Bo, Benetra.

Show Background: Though this is the earliest existing recording, this is not the first broadcast--though certainly one of the first. Snott and Guil had clearly been working as DJs for 94 Licks for at least a few weeks by this point, and this show finds them in the MacDonald's parking lot broadcasting out of a van (rather than the 94 Licks studio), hiding out due to their battle with copyright infringement which would be ongoing for the upcoming months.

Show Summary: Snott Brezere and Guil Smellerson bring in Rambo Lady (with a sore throat) as their first guest, have Dr. Hooloovoo Duke on in a Studio B segment called "The Spinal Column," and take callers to win the A volume of the Encyclopedia Britannica, during which Mooch Halowitz chases them across town with a gun. When they return, they take more callers then play a pre-recorded segment where Snott and Guil visit Eugene F. McGuilicutty and Jim Bo on their farm, a segment which turns into the first episode of The Manure Brothers. Throughout this episode, the show's announcer is brought in to read a copyright announcement anytime anything potentially copyright-infringing is played or said.