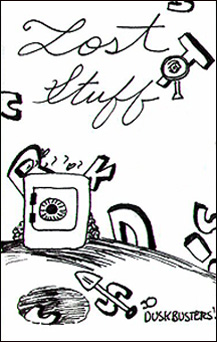 Information: 1988/1989. 46:40.

Major Characters Introduced: Roxanne.

Show Background: The two shows featured here did not surface until much later, when they were presented as a sort of "appendix" to '89. The first segment was a pre-cursor to the DUSKBUSTERS! which one of their producers was involved with, featuring Billy-Bob and Billy-Ray. The DUSKBUSTERS! portion of Lost Stuff features the third DUSKBUSTERS! DJ, Roxanne. Roxanne was hired shortly after Snott and Guil. She took a vacation for her first week of work, worked the second week, and then left for vacation again the third week, having yet to return. This show is a rare recorded appearance.

Show Summary: In the first segment, Billy-Bob and Billy-Ray sell used cars while Geraldo, Morton Downey Jr., and Dr. Ruth do their talk shows. In the DUSKBUSTERS! segment, Snott, Guil, and Roxanne take callers to win underarm deodorant. They play a pre-recorded tape of Snott and Guil in New York City (where Roxanne has gone on vacation). The Manure Brothers visit the symphony orchestra. Roxanne has a "Talk with Roxanne Hour" in which she gives advice to callers.