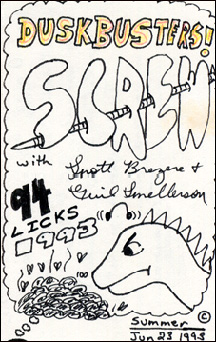 Information: 23 Jun 1993. 1:44:06.

Major Characters Introduced: Chicken Bone Head.

Show Background: Business as usual.

Show Summary: Snott and Guil talk to the people who invented Hawaiian Shave Ice, Guil traces the call of a criminal, Chicken Bone Head makes his first appearance, and Snott has a crush on Amanda from Rally's. Snott interviews Steven Spielberg to talk about Jurassic Park. Guil wakes up. The Manure Brothers visit the railroad tracks, and Salt Potato Man visits to promote his new movie.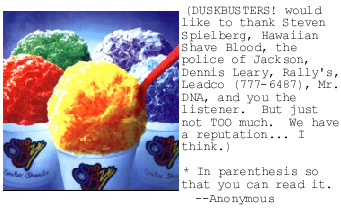 ---
Copyright (c) Dec 2003 DUSKBUSTERS! Productions