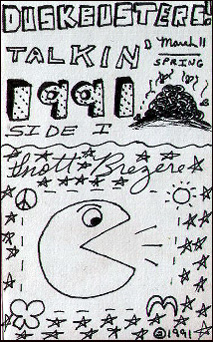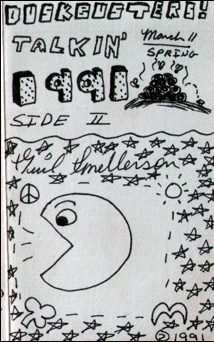 Information: 11 Mar 1991. 2:07:47.
Major Characters Introduced: John Travolta.
Show Background: The first relay tape of 1991.
Show Summary: The DUSKBUSTERS! take callers with the intent of getting more personal with their fans, they play a Lone Ranger episode, and Barker O'Hara and Hu Hu do a studio B segment. Dr. Hooloovoo Duke speaks with guest David Donaldson while doing a music experiment. The Manure Brothers take a job at McDonald's. The DJs play "Unchained Melody" by The Righteous Brothers. The birthdays are announced. Snott and Guil have dinner at Mrs. Brezere's house before playing the 'nikcuS song "Victoria's Secret." They have their first Top 20 Corner about Rainbo Pickles, and Salt Potato Man stops by to talk about his new soundtrack. But mostly, Snott and Guil spend all their time just talkin'.
---
Copyright (c) Sep 2003 - Dec 2007 DUSKBUSTERS! Productions