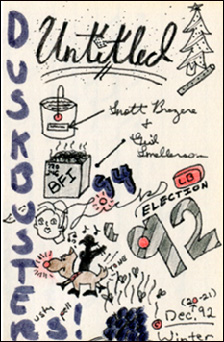 Information: 20-21 Dec 1992. 1:35:31.

Major Characters Introduced: Noby Nobriga, Rusty Spell, Bill Clinton.

Show Background: After totally disappearing for almost a year and a half, not only off the radio but seemingly off the planet (prompting most people to think they were dead), the DUSKBUSTERS! return rather oblivious to why people thought they were gone at all, seeming confused about what year it is. Their return seems to mark a new phase in DUSKBUSTERS! history, with a different style of show from now on. This is their second Christmas show.

Show Summary: The DUSKBUSTERS!, not knowing where Rudolph the Red-Nose Reindeer came from, have a contest, taking callers to tell them where he came from. A little elf from the North Pole visits the DJs, Guil talks to his grandmother about Christmas cornbread, and there is a thought-to-be studio B segment with The Movie Critics talking about pornos. Annoying Guy is interviewed as well as Noby Nobriga and Rusty Spell of 'nikcuS, Rudolph, and President-Elect Bill Clinton. The Manure Brothers visit the mall before the DUSKBUSTERS! send out a Christmas farewell.
---
Copyright (c) Sep 2003 - Nov 2011 DUSKBUSTERS! Productions