Beck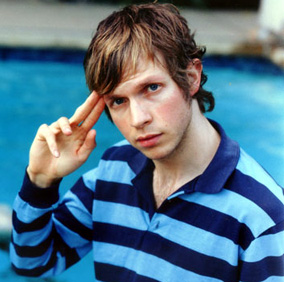 Beck is a smart postmodern musician who works best when he's being genuine about what he's doing (if that's possible for postmodernists and GenXers) instead of being snooty. It also helps when he's funny, or at least clever, and he's usually both. He deserves most of the critical acclaim he receives.
see North American Halloween Prevention Initiative
Information: Beck
Suggested First Purchase: Odelay
---

Mellow Gold (1994) -- Beck the folk rapper. "Loser," "Soul Suckin' Jerk," and "Beercan" are the standouts.

Stereopathetic Soul Manure (1994) -- The lack of focus is the focus here. All the answering machine messages, real songs, crazy noises, and everything going on makes this always interesting.

One Foot in the Grave (1994) -- This time, straight folk--campfire acoustic folk. Almost anything recorded by Calvin Johnson at Dub Narcotic has a wonderful charm, and this album is no exception.

Odelay (1996) -- The album that surprised everyone, from "that kid who did 'Loser.' " The teaming of Beck with The Dust Brothers proved to be a wonderful idea, and together they created one of the most talked-about albums of the 90s. My favorite songs are "Devil's Haircut," "Jack Ass," "Where It's At," and "High 5."

Odelay (Deluxe Edition) (1996/2008) -- The original album with "enhanced" artwork and packaging. The additional tracks (added at the end of the first CD and on a second disc) are B-sides, remixes, a song from a soundtrack, and other previously unreleased material. The B-sides alone are a good reason to have this; it replaces that Japanese import of B-sides that was released a while back.

Mutations (1998) -- A quiet album produced by Nigel Godrich of OK Computer fame, this "unofficial" album (like Soul Manure and One Foot in the Grave were intended to be, off-to-the-side indie releases) was even better than the "real" album to follow, Midnite Vultures. "Sing It Again" is a highlight.

Midnight Vultures (1999) -- "Sexx Laws," "Mixed Bizness," and "Get Real Paid" are the only good songs from this album. The rest are kind of boring. In doing Prince-like songs (he was the main influence), Beck seems to be taking a "I can do this too, look how easy, isn't this funny" attitude which ruins everything.

Sea Change (2002) -- Beck redeems himself from Midnite Vultures and makes a wonderful, dreamy, probably-perfect album where he sits down and writes songs and records them somewhat straight (for Beck: there's plenty of psychedelic stuff, but not as much wackiness as usual) and it works. Much of this seems to be inspired by Serge Gainsbourg's Melody Nelson album. "Lost Cause" is one of my favorite songs of all time, not just from Beck.

Guero (2005) -- If someone had told me this was an outtakes album from Odelay I would have believed them. I don't mind a throwback album, of course, though I only like about half of the songs: almost every other one. My favorites are "E-Pro," "Girl," "Black Tambourine," and "Hell Yes." The deluxe edition of this album features a screen saver style DVD, four additional songs, and four remixes.

The Information (2006) -- Beck settles down and writes songs, pretty good ones after they grow on you a bit. Sometimes the "loop" at the front of the song makes the song seem like it's going to be better than it is, which probably means there's a problem with melody, but it's not a huge problem. Highlights include "Nausea," "New Round," and my favorite "No Complaints." The package also includes a DVD of thrown-together (but pretty good) music videos.
---
Copyright (c) Jun 2000 - Mar 2008 by Rusty Likes Music