Frank Black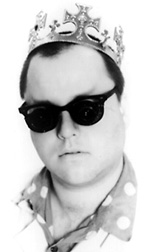 Black Francis of The Pixies changes his name and makes solo stuff, sometimes with The Catholics (and sometimes as Black Francis again). Most of the time it's nice, some of the time it's just boring.
See The Pixies
Information: Frank Black.net
Suggested first purchase/album: Teenager of the Year
Suggested best of: 93-03
---

Frank Black: Frank Black (1993) -- A decent start for Frank Black as a solo artist. Even though it's not as radical as the Pixies stuff, give his solo career about five years and this album sounds downright radical in comparison to the rootsy and somewhat bland stuff he eventually gets into.

Frank Black: Teenager of the Year (1994) -- A long album (over an hour) full of all kinds of ideas. On the first listen, you realize all the songs are pretty good, even if you can't get it all at once. After a handful of listens, this becomes one of those very addictive records, at least for me. Every single song has something to offer. Sometimes it seems like he's doing genre-jumps, and he sort of is, but it works for the dynamic of the album more than hindering it as some sort of musician's exercise. "Headache" stands out in particular as a song that will never get old. One of my favorite albums of all time.

Frank Black: The Cult of Ray (1996) -- Frank blew a lot of his wad on Teenager of the Year. This album, like many Frank Black releases, takes a few listens for the songs to sink in, but even when they do they don't stand out that much, not even as much as his first solo album. Like what happened near the end of the Pixies, it felt as if Frank Black was running out of ideas for the style he was working in, which is why his focus shifted on the next album. The Cult of Ray isn't bad at all, but usually you'd rather put in something else he's done.

Frank Black and the Catholics: Frank Black and the Catholics (1998) -- Frank Black needed another re-invention on this album, so he brought in his new band The Catholics and recorded a live studio album that often sounds like songs they made up on the spot. The result isn't incredibly interesting, but the point seemed to be to shed some of the more "experimental" past and try for regular rock-n-roll. Seemingly not a good idea, but it cleansed the pallet in a "get back" sort of way.

Frank Black and the Catholics: Pistolero (1999) -- A slightly more bearable version of the previous album with one or two songs that stand out a little more. By this point, I'm sure many Pixies and early Frank Black fans had given up on him as someone interesting in music. I probably would have.

Frank Black and the Catholics: Dog in the Sand (2001) -- Once you get past the redundant and crappy seven minute opener of "Blast Off," this album released with the Catholics settles in and becomes pretty good with the memorable hooks Frank Black is known for. Unlike the last three albums, there will be songs that you remember after the record is over, even songs that will get stuck in your head. He's also moved beyond too-loud rock music and into a more country and western style, which he'll eventually settle into for the next several years of his career.

Frank Black and the Catholics: Devil's Workshop (2002) -- Released the same day as Black Letter Days, this is the more rock and country oriented album of the two. Some good songs come out of it. You can't go wrong with stuff the memorable hooks of "San Antonio, TX."

Frank Black and the Catholics: Black Letter Days (2002) -- Released at the same time as Devil's Workshop, this is a collection of songs that are not bad, but they feel a bit thrown-down since they're all recorded live in the studio (Let It Be style, I suppose). As with lots of Frank Black albums, the songs grow on you a bit with time.

Frank Black and the Catholics: Show Me Your Tears (2003) -- After doing a few years worth of somewhat dull rock and country (you know, "normal music"), Frank Black returns somewhat to his more unusual sounds and creates a better album in the process, my favorite at this point next to Teenager of the Year. The highlights are "Everything Is New" (one of my favorite Frank Black songs of all time), "Horrible Day," and "Goodbye Lorraine."

Frank Black Francis: Frank Black Francis (2004) -- The first disc is a demo of the earliest Pixies songs, which is very interesting listening for Pixies fans. It makes you sort of re-realize how cool the songs were, hearing them in this early form, showing how smart Frank Black was and how out-of-nowhere these songs were. The second album is a reinterpretation of the Pixies greatest hits by him and Two Pale Boys. It's kind of a low-key synth mix, and cool to hear at least the first few times. The last track is fifteen minutes long and annoying, so just don't listen to that one. A weird but nice release.

Frank Black: Honeycomb (2005) -- The first album without the Catholics since The Cult of Ray, and even more country-sounding than Dog in the Sand and other country-ish recordings. The album is very soft and pretty and consistent in a Lambchop kind of way. Those who didn't like the noisy rock-n-roll of his early Catholics days might like this, though it's even further removed from what he did with the Pixies.

Frank Black: Fast Man Raider Man (2006) -- A longer (two discs) version of Honeycomb, basically, with pretty much the same backing musicians and musical approach. Not my favorite, but good songs for background listening.

Black Francis: Bluefinger (2007)
---
Copyright (c) Jan 2004 - Jan 2008 by Rusty Likes Music