Fine Young Cannibals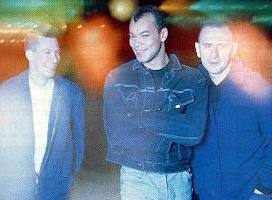 Fine Young Cannibals makes clean, catchy, perfect Motown music for modern listeners. Roland Gift's voice is unique. For a long time in junior high, this was my favorite band. Their first album was the first I ever bought from a section in the record store known as "alternative," which insulted me at the time.
see The English Beat
Information: Wikipedia
Suggested first purchase/album: The Raw and the Cooked
Suggested best of: Finest
---

Fine Young Cannibals (1986) -- FYC's first album features undeniably great danceable Motown-sounding songs, including "Johnny Come Home," "Suspicious Minds," and "Blue." The CD version includes two remixes as bonus tracks.

The Raw and the Cooked (1988) -- Named after a book by Claude LÚvi-Strauss, this collection features plenty of overplayed (but still excellent) tunes like "She Drives Me Crazy" and "Good Thing" and some not-as-overplayed (and equally excellent) beauties like "I'm Not the Man I Used To Be," "Don't Look Back," and "As Hard As It Is." This and the first album are two of the finest popular albums of the 80s.

The Raw and the Remix (1990) -- Not-always-great remixes of songs from previous two albums. A little pointless, but fun to hear when you want to mix it up a bit. The best thing on the collection is the over-the-top rap of "I'm Not Satisfied."
---
Copyright (c) Jul 2000 - Jan 2008 by Rusty Likes Music