Lambchop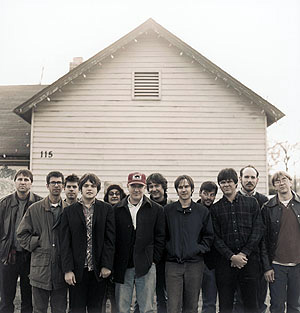 Lambchop is my favorite country band. They're what country bands should be doing these days, which is expanding the genre and making it new. Their thing is to make it dark, spooky, pretty.
Information: Lambchop
Suggested First Purchase: I Hope You're Sitting Down
---

I Hope You're Sitting Down (1994) -- Also known as "Jack's Tulips," this album should have made any person who hated modern country stand up and say "Yeehah!" It's got little bugs in it, like their tendency to tell short stories or diddle around with the music too much, but there's just no beating the beauty of songs like "Begin," "Soaky in the Pooper," and "Let's Go Bowling."

How I Quit Smoking (1995) -- This album took the pretty song style from the previous album, took out the stranger sound effects, and replaced them with lush strings. Most of the songs are lovely, but it almost suffers from a sameness throughout, making the more-up-tempo "All Smiles and Mariachi" a standout. They achieve perfection with "Theone."

Hank EP (1996) -- This album also has a sameness throughout, with the pretty strings and all. Nothing really wrong with it, just nothing exceptional, and certainly not new to what they were doing. But it's just an EP.

Thriller (1997) -- This expands the sound from the odd-country of the previous, and achieves a new sort of prettiness (they're always pretty). It's very short, and at first you think, "Is this all?" but then it seems almost perfect, like a well-constructed longish EP. The East River Pipe covers are probably the highlights.

What Another Man Spills (1998) -- By this point, the songs that main man Kurt Wagner writes start sounding the same. Maybe that's why half this album is covers, and those are the greatest things about it, especially the Prince-y falsetto ones and the ones where they show us just how great they can play their instruments.

Nixon (2000) -- Lambchop went from a spooky little weird country band to a country-influenced soul band (sort of slowly--not all of a sudden). How odd. But it's not a bad thing, and all of the falsetto and strings are just great. Lots of critics wonder about Lambchop: if they're just making some elaborate joke, but I don't think so. This album isn't as satisfying as some of the others, but it's doing its own little thing, and I appreciate that about it.

Tools in the Dryer (2001) -- A decent enough collection of rarities from 1987 to 2001, though I'm not as much a fan of this one as I am of some odd and sod collections, maybe because it feels like a weird unbalanced jumble (though that's sometimes why I like these kinds of things). Several good songs and several half-decent ones.

Is a Woman (2002) -- The quietest album yet (which is saying a lot), and as a result I have to be in the mood for quiet music to listen to it, and I'll probably listen to it less than the others. I sort of wish Lambchop would revert to their more country and more "noisy" sound, but this is good stuff too.

Aw Cmon (2004) -- Released along with No You Cmon as either a double album or a twin album or whatever you want to call it (they're not necessarily sold together in the traditional sense of a double album like The White Album), both of these are essentially the same: pretty pretty countryish chamber pop music that's in the same background-ish and understated tone Lambchop's been up to since at least Nixon. Lambchop might not ever make a remarkable stand-out album at this point, but they're consistently well-above-average at all times.

No You Cmon (2004) -- The same in structure, sound, packaging, and everything else as Aw Cmon. You'll barely be able to tell them apart.

The Decline of Country & Western Civilization, Pt. 2: The Woodwind Years (2006) -- A collection of A-sides (from 7" singles), B-sides, compilation appearances, and more, and a good demonstration of what Lambchop is capable of, from things that are experimental to things that are perfect.

Damaged (2006) -- About the same as Is a Woman, where the songs are really nice and pretty, though a lot of them don't stand out too much or make you want to put them on someone's mix tape. Like Morphine or Enya, you enjoy Lambchop albums for their variation on their consistent theme.
---
Copyright (c) Jul 2000 - Sep 2006 by Rusty Likes Music