OutKast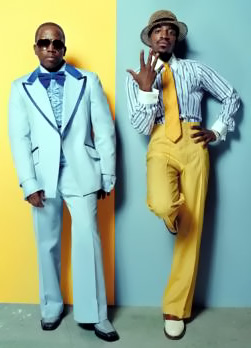 Big Boi and Andre 3000: the Beatles of urban music, making that genre smart again, and smarter than it ever was to begin with. Geniuses? Probably.
Information: OutKast
Suggested first purchase/album: Speakerboxxx/The Love Below
Suggested best of: Big Boi and Dre Present...
---

Southernplayalisticadillacmusik (1994) -- Admittedly what makes this album special is looking back at it as a product of ten years ago, seeing where OutKast has come from, discovering the genesis of one of the most creative groups in recent history. Still, even on its own, as a non-artifact, it's pretty great music (arguably even more enjoyable, if not as mature, as the next album), featuring "Ain't No Thang" among other now-classics.

ATLiens (1996) -- The first big leap after their first more traditional album, filled with their emerging personalities. Still more underground rap than the stuff to come, but includes such goodness as "ATLiens," "Elevators (Me and You)," and "Mainstream."

Aquemini (1998) -- OutKast does this thing where they get a little -- nay, a lot -- better with each album, and this is the first one where their potential greatness really comes out, especially with singable songs like "Rosa Parks" that move beyond low-ridin' rap and into something really special. "Skew it on the Bar-B" is the most danceable thing they've done so far, and "Aquemini" is catchy in spite of the fact that the song is essentially performed twice. By the time you get to the insane horns on "SpottieOttieDopaliscious," you'll realize how smart these guys really are.

Stankonia (2000) -- This is the point where OutKast become downright undeniable. There's the huge hit "Ms. Jackson," and there's also "So Fresh, So Clean," "I'll Call Before I Come," "Gangsta Shit," and the best song on the album, the unbelievable "B.O.B." This album goes beyond the often-stupid genre of rap and into something else completely. You'd think, then, that this would be the highest point, but even this album gets completely blown away with their next release.

Big Boi and Dre Present... (2001) -- A greatest hits collection, but not a usual one. For one thing, they're only "hits" for people who were interested in underground rap (with the exception of the Stankonia tracks that made them popular). For another, there are plenty of new tracks here: the almost always funny non-musical intro, "Funkin' Around," "Movin' Cool (The After Party)," and of course the new hit "The Whole World." It's a good start for anyone becoming interested in OutKast beyond Speakerboxxx/The Love Below--indeed, it was for me.

Speakerboxxx/The Love Below (2003) -- OutKast is Big Boi and Andre 3000, and they've put out two solo albums disguised as a double album by OutKast, and it works. Big Boi's Speakerboxxx is more enjoyable track for track, featuring dance funk like "Ghetto Musick," gorgeous stuff like "Unhappy," single-ready "The Way You Move," absolutely irresistible "The Rooster," and others. Even the self-indulgent tracks like having his son Bamboo enter the studio only add to the fun. Andre 3000's The Love Below is essentially a Prince album, or what Prince would be doing today if he were still Prince. Highlights include "Happy Valentine's Day," "Prototype," "Behold a Lady," "Dracula's Wedding," the inspired cover of "My Favorite Things," "Take Off Your Cool," and of course the infectious "Hey Ya!" In so many ways, this is a really really important album, but also a fun one. It just gets cooler and cooler, and it's one of the earliest best releases of the 00s.

Idlewild (2006) -- Idlewild the movie is scattered, weird, inconsistent, but enjoyable, and this soundtrack album matches it. Since it's a soundtrack and meant support the movie as much as it's meant to be a real album, you can't really fault it for not being on par with their previous album, Speakerboxxx/The Love Below. Besides, that one's going to be pretty impossible to top. So if some of the songs aren't as interesting, it's worth noting that they work well in the movie, and that -- in their older albums -- OutKast has always had their fair share of "misses," which arose more out of experimentation than laziness in songwriting. In the end, this is another great OutKast album, featuring "Mighty O," "The Train," "Buggface," "In Your Dreams," and one of their best songs ever, "Call the Law."
---
Copyright (c) Feb 2004 - Aug 2005 by Rusty Likes Music