Radiohead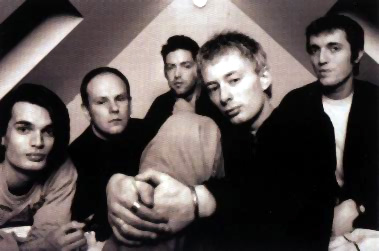 Radiohead is an important 90s/00s band, summarizing nicely the lonely melancholy things we experience these days.
Information: Radiohead
Suggested First Purchase: The Bends
---

Pablo Honey (1993) -- As everyone says, not as great and groundbreaking as things to come, but super nonetheless. Some of it is steeped in normal alternative rock, but songs like "Creep," "Stop Whispering," "Thinking About You," and "Blow Out" pull it above the rest.

The Bends (1995) -- Still possibly their best recording, if not as ambitious as the upcoming OK Computer. What works here are the completely lush and hummable (low, low hums) songs, all of which are great. An album nearly everyone needs.

OK Computer (1997) -- A good run-down of how humans are operating these days--if you take the bleakest outlook, that is. All the airplanes and paranoia and homesickness and displacement and sadness and, you know, turning into unhappy robots. Not the feel-good album of the decade, but certainly the best of the best feel-bad albums. If it weren't for not-as-good tracks like "Subterranean Homesick Alien," "Karma Police," and some of those normal-sounding ones, it would be a perfect album for the end of the century.

Kid A (2000) -- I didn't much like this when it first came out. It took me around five years or so to finally get into it. I think I was just expecting another OK Computer.

Amnesiac (2001) -- About half a year later, they came out with this one, which sounds like a B sides to Kid A (or outtakes, and they probably are), but oddly enough it's a little better. More tiny, less trying, more listenable, and best of all less lethargic. Like Kid A, also, it took me a few years to really enjoy it.

Hail To the Thief (2003)

In Rainbows (2007)
---
Copyright (c) Aug 2000 - Feb 2008 by Rusty Likes Music