System of a Down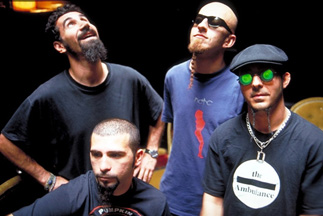 Nü-metal band that kicks everyone's ass. Heavy metal for people who don't like heavy metal.
see Serj Tankian
Information: System of a Down
Suggested First Purchase: Mezmerize
---

System of a Down (1998) -- Music that doesn't mess around. This album turns screaming, fast drums and guitars, distortion pedals, and devil sounds into a higher art, all with a wonderful sense of earnestness and drama that's lacking from a lot of bands still suffering from the Shoe Gazer days of music. For a guy who has never liked any heavy metal, I think this album is great.

Toxicity (2001) -- Taking the basic elements of the first album and making it more sophisticated and more listenable to a general audience (not in a bad way). Every track on this album is pretty fantastic, including the destined-to-be-classic singles "Chop Suey!" and "Toxicity." The album manages to be political in a smart way, funny in a serious way, and pretty surprising all around.

Steal This Album! (2002) -- A collection of stuff recorded over the last seven years, but not as disconnected as you might think. In fact, it just seems like a "lesser, but good, album." If this had been their first album, it would have still been considered a triumph.

Mezmerize (2005) -- Part one of a two album set (Hypnotize to come later in the year), this album crams a zillion epic ideas into a very tiny space, so that it's over before you know it and it feels like you've listened to about twenty-five different songs. The band has transcended the genre of heavy metal completely by this point, in the same way that OutKast transcended rap and The Beatles transcended rock and roll (in fact, this is more of a disco album than anything). The album never settles down and is full of a million little left turns and surprises. Also of note is that SOAD seems to be having even more fun than usual. Some of the subject matter is still as serious as Toxicity, but the boys are primarily concerned with making lively music that will rock your balls/tits.

Hypnotize (2005) -- Meant to be the completion of the two album Mezmerize/Hypnotize set, the songs here are good, but don't live up to the brilliance of the first volume. On this one, almost all the surprises are gone, all the jagged little musical and lyrical sidetracks that will keep Mezmerize interesting for years and years. It sometimes feels like these are the leftover songs more than part two. That's not to say that this is a bad album, just not the masterpiece that the previous volume was: it will rock one ball/tit instead of two. There are certainly some standouts here, like "Vicinity of Obscenity," a song that could have easily fit on the first one. Maybe the problem with this one was that they couldn't think of a funny way to spell the word hypnotize. Maybe Hypnotise?
---
Copyright (c) Jun 2005 - Feb 2008 by Rusty Likes Music