Weezer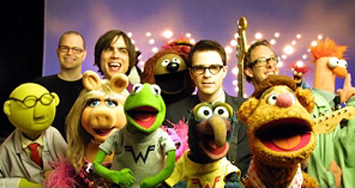 Weezer has never recorded a bad song, and I've heard most of them. When they record a bad song, the world will end. They play a mix of Brian Wilson, The Cars, The Pixies, and Kiss which works remarkably well.
see Rivers Cuomo, The Rentals
Information: Weezer.com
Suggested First Purchase: Weezer (Blue Album)
---

Weezer (Blue Album) (1994) -- Ten perfect songs. As many bands nowadays stress album cohesiveness over individual songs, they lose sight of the fact that the songs are what the albums are actually made up of. Weezer doesn't forget this, carefully making each song so that any one of them could stand alone, while still making them work together as a whole. This is an album that was amazing when it came out, and became even more amazing as years went by and you realized it would outlast most of the 90s acts that Weezer was thrown in with on MTV. I imagine this album will be just as superfresh 50 years from now.

Weezer (Blue Album) (Deluxe Edition) (1994/2004) -- I suppose if I put the two discs in back to back, I could notice a sound difference--but it's only been 10 years and the first one sounds fine to me. As far as the bonus disc goes, fans probably know most of these songs already, though if they don't, they're all great (since all Weezer songs are good). I would have preferred a true Rarities and B-Sides disc to this bonus disc from the Blue Album era, but it's nice enough, if too expensive.

Pinkerton (1996) -- Ten more perfect songs, only this time they've outdone themselves and made a gut-wrenching album that pulls feelings out of me with each listen. People try to sound all screamy and pleady and emotional and vulnerable and stuff on albums all the time, for the most part it just sounds fake and is an act. This is a bit of an act too, but in the best way: a theatrical presentation of true feelings about girls, sex, frustration, resignation, etc. Like if a Brian Wilson song was exposed to radiation and mutated into a crazy superforce. I just remember the first time I heard the album, I was pretty stunned, even though I was already expecting great things from a band that was already one of my favorites. A masterpiece, one of my favorite albums of all time.

Weezer (Green Album) (2001) -- Can we say thirty perfect songs, grand total? This album is a return to the first album: the self-titling, the cover, the Ric Ocasek production, the punchy little songs. It's a little short at under thirty minutes, but that doesn't matter too much, and in fact it just stresses the old-style pop album nature of the project, where you get a handful of a good songs instead of some sprawling epic crap. It's not as dark and cathartic as Pinkerton, but Pinkerton is Pinkerton and this is this. A little green emerald. We might miss Matt Sharp's Korgs and falsetto backing, but I like Mikey Welsh (for as long as he lasted) and I'd rather have Weezer and The Rentals than just Weezer. Out of all the Weezer albums, this is actually the one that I find myself playing the most, just because I'm almost always in the mood for something this sunny. Another fantastic contribution to shiny punk rock.

Maladroit (2002)

The Lion and the Witch EP (2002) -- An odd limited release, which I guess was intended "for fans," but since I'm a fan and still find this release sort of pointless, I'm not sure why it was released. It's basically a handful of songs from a random live concert (not the whole show, and not even highlights--just about twenty random minutes). Hunh?

Make Believe (2005)

Weezer (Red Album) (2008) -- Extremely addictive album, as much as the first three. This time, Rivers is nostalgic about his life and music, recounting his life on "Troublemaker," his favorite songs on "Heart Songs," and reflecting on childhood dangers in "Dangerous." The other theme is "screw you," which might be a reaction to those Weezer "fans" who keep expecting Pinkerton 2--and that theme works, producing punchy stupid songs like "Pork and Beans." This is the first album that the other boys sing and write on, and all of their contributions are pretty good. (The deluxe edition of this album contains four remarkable songs which I like to think of as a bonus EP.)
---
Copyright (c) Oct 2000 - Jul 2008 by Rusty Likes Music