BIBLE STORIES
by Rusty W. Spell
Introduction - Allusions - Related Graphics - Bible Stories Commentary - Bible Stories Minus God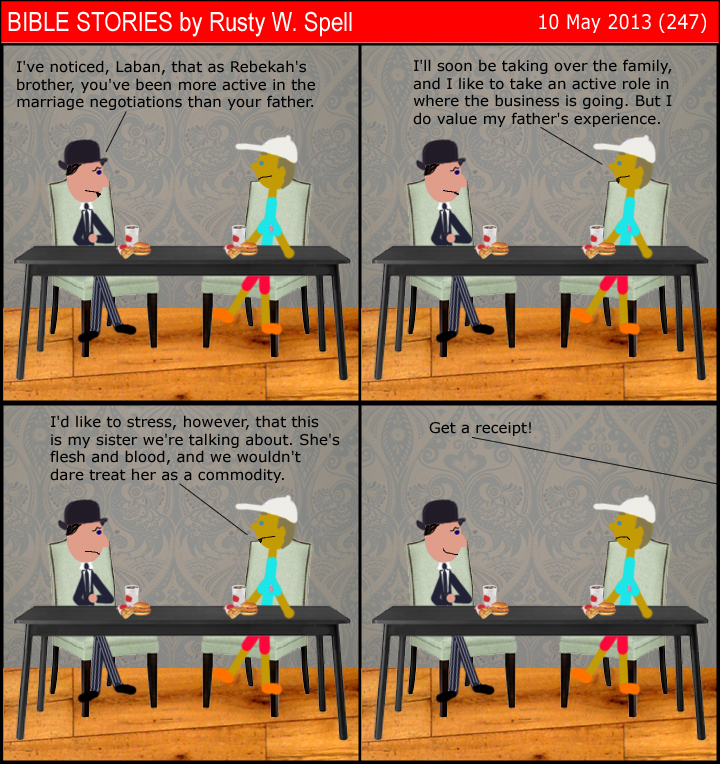 This is the newest comic. Click graphic to navigate.
Click here to read the story from the beginning.
Select book titles below to see specific episodes.
GENESIS
The Beginning, Adam and Eve, Cain and Abel, Noah and the Ark, The Tower of Babel, Abraham, Sodom and Gomorrah, Isaac
"Religion without humor is a worthless religion. Humor is part of man and man never would have survived without humor. It's the only thing that makes life palatable--if that's the word. And to say that there's no room for humor in religion is like saying there's no room for humor in life. The scriptures themselves have quite a few incidents of humor--probably more than we realize, especially if we had the ability to go back and understand the cultures which contain some of the occurrences reported in the Bible. Of course, I do believe that the scriptures are holy, but I do not believe that the Bible itself is a holy instrument to be worshiped. After all, the words are only the words which men put down under inspiration." --Charles M. Schulz, creator of Peanuts and my hero
---
Bible Stories by Rusty W. Spell
Copyright (c) Mar 2007 - May 2013
by Rusty's Art
Email Rusty W. Spell - Rusty's God Blog - Rusty Spell Dot Com
OnlineComics, Belfy WebComics Index, The Webcomic List
I'm featured at the above comic book sites.
Facebook
Become my Facebook friend and receive a bulletin (and occasional commentary) each time a comic is written.
Send a message letting me know you're a Bible Stories fan to insure that I add you.