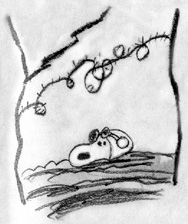 Here's the World War I pilot trapped behind enemy lines.
---
This was one of my first times to draw "naturalistic" stuff instead of just cartoons. Most of the settings Snoopy is in from now on is not especially comic strippy. I'm impressed with my barbed wire.
Home. Previous page. Next page.
---
Copyright (c) Sep 2004 by Rusty's Art