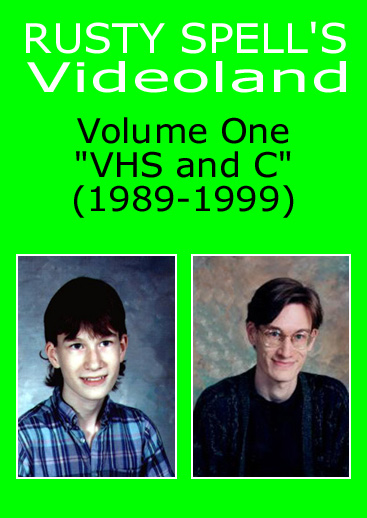 Though this features one of the largest supporting casts of any Envision production, this video is all about Rusty Spell. It begins with one of the earliest videos from Envision -- "Mad Dogs," which was recorded in 1989 around the same time as the earliest Tuesday Afternoon Pre-Recorded videos -- and ends ten years later with "Space Camp" and the definitive version of "Rusty Spell's Fantasia." In between we have dancing, the first scripted Envision video, a French film, a rare stage performance, talking animals, music videos, and more. Watch Rusty grow from a young adolescent to a young man. You might learn to love him as much as he loves himself.
Footage creation: 1989-1999. Original video release date: 1997 (Volume One) and 1998 (Volume Two), both in different form. DVD release date: May 2008. Total running time: 1 hr 43 mins. Bonus materials: original credits for VHS versions of Volume One and Volume Two, bloopers from "I Dream of Joannie," "Stare At This Until It's Funny," trailer, and informative booklet.
Starring: Rusty Spell. With: Matt Auten, Tommy Burton, Sarah Cunningham, Kenneth DeShields, Amal Dorai, Shantelle Forbes, Reed Ginn, Yi-An Haung, Abinav Kak, Jason Logan, Courtney Martinez, Chris May, Jake McGee, Melissa McLemore, Crystal Medders, Carman Morales, Kim Moulder, Carrie Nash, Noby Nobriga, April Norris, Emily Reece, Andy Roberts, Derek Robertson, Lee Rozelle, Michelle Sartin, Brittany Schafer, Stephanie Sheppard, Ava Spell, Casey Spell, Charles Spell, Debi Langford Spell, Vicki Spell, and Brandy Vaugn.
CHAPTER SELECTION
DISC ONE
1. Opening Credits [1:02]
2. Mad Dogs [7:15]
3. The Gruesome Twosome [8:48]
4. The Wakeup Call [2:12]
5. Upside-Down Face [2:30]
6. Blanche Neige et les Quatre Nains [5:17]
7. The Canterville Ghost [1:56]
8. Do You Some Talkin' [:37]
9. The Animal Rebellion [5:17]
10. Marney [1:30]
11. The Mirror Is Gone [2:47]
12. Box Drop [:09]
13. Exit Music (For a Film) [4:26]
14. Pork Roll Egg and Cheese [3:06]
15. Falling In Love (Oh My Dear) [1:58]
DISC TWO
1. New Song (Casey and Jason) [3:54]
2. I Dream of Joannie [7:04]
3. Space Camp: Not The Real World, 1999 [11:34]
4. Rusty Spell's Fantasia [33:29]
5. Closing Credits / The Cars That Go Boom [3:57]
BONUS MATERIALS
DISC ONE
* Trailer [1:05] -- Created Apr 2008 by Rusty Spell

DISC TWO
1. Vol. 1 Original Opening Credits [3:55]
2. Vol. 2 Original Opening Credits [1:23]
3. Answering Machine Bloopers [:44]
4. Stare At This Until It's Funny [5:11]