The Beatles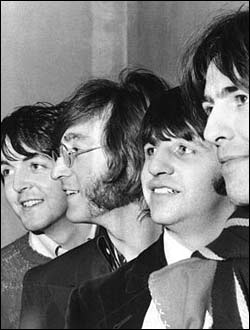 Everyone knows The Beatles. If it weren't for them... etc. etc. etc. I believe every word of it. They're not, I suppose, my favorite band, but they're the only band that I would call miraculous. They did everything first and did it perfectly.
See George Harrison, John Lennon, Paul McCartney
Information: The Beatles
Suggested first purchase/best of: The Beatles 1
Suggested first album: Sgt. Pepper's Lonely Heart's Club Band
---

Please Please Me (1963) -- What a whammo record this must have been when it first came out. Fresh cover songs which become their own (think "Twist and Shout") mixed with Beatles originals which prove from this early on that no one is going to be able to touch this band (think "I Saw Her Standing There," "Please Please Me," "Love Me Do").

With The Beatles (1963) -- The liner notes say that The Beatles have followed their "formula" which made the first album successful. This must have been before the word formula had negative connotations. At any rate, it's true, though whether that's negative or positive is debatable. It's bad because it doesn't have the same freshness as the first one, but good because it doesn't fix what's not broken, and delivers songs like "It Won't Be Long," "All My Loving," Harrison's "Don't Bother Me," and "I Wanna Be Your Man."

A Hard Day's Night (1964) -- Reading the track list is like reading the listing of a greatest hits album with "A Hard Day's Night," "I Should Have Known Better," "And I Love Her," "Can't Buy Me Love," and "You Can't Do That." The first album of all originals showed everyone that didn't believe it that The Beatles were #1. I also thought the movie was spectacular.

Beatles for Sale (1964) -- On the surface it seems like a regular rock album (especially since they cover Chuck Berry, Buddy Holly, and Carl Perkins among other influences), but closer listens show that The Beatles are quickly becoming their own thing. One thing to remember is that though this is the fourth Beatles album, all four were made in two years. Two to three years is the minimum for major label bands to release albums these days, and most aren't nearly as great.

Help! (1965) -- Unforgettable and wonderful songs on this one, especially "You've Got To Hide Your Love Away" from John and "I've Just Seen a Face" from Paul. Some critics say that this album is weaker than some of the other early Beatles, but I disagree. The album is much better than the movie.

Rubber Soul (1965) -- After opening with the fast "Drive My Car," this album quickly slows down to be one of the most mellow and careful Beatles records. They foreshadow later developments with "Norwegian Wood" and "Nowhere Man," and turn out simply pretty songs like "In My Life."

Revolver (1966) -- I consider this the first of the "new" Beatles, where they all but leave their rock and roll roots behind and begin to invent a never-before-heard kind of music. "Eleanor Rigby" employs an innovative string arrangement (not simply the lush backing strings of "Yesterday"), "I'm Only Sleeping" and "Here, There and Everywhere" are heart-crushing, "Yellow Submarine" uses sound effects, and after the closing "Tomorrow Never Knows," music would never be the same.

Sgt. Pepper's Lonely Heart's Club Band (1967) -- Many consider this to be the best album ever made, not too big of an exaggeration. Listening to it made me want to go out and record myself in a different way. It's a great example of what can be done in the studio from a band who had recently given up touring for good. Whether or not it topped The Beach Boys' Pet Sounds or if it was a concept album (the first or otherwise) or not is irrelevant because it's the fact that not one song is a clunker that makes this record great.

Magical Mystery Tour (1967) -- I like this album for the same reason John said he did: "Because it's so weird." Some don't like it as well because it sounds like a grab bag of songs that were floating around, singles or outtakes or TV appearances or whatever, but this adds to it for me. "I Am the Walrus" and "Strawberry Fields Forever" beat anything on Sgt. Pepper's, and this entire album is arguably better than its groundbreaking predecessor.

The Beatles ("The White Album") (1968) -- The Beatles are one of the few bands who are able to pull off something like a two disc set. The album is almost a parody/homage of every genre of music, and the genre-hopping is one of the delights--as well as the solidly great tunes. If for nothing but the scope along, this might easily be considered the greatest Beatle record.

Yellow Submarine (1969) -- These glitches in the catalog make me mad. Only two new songs are included on the soundtrack to their animated movie, while the rest are songs from previous albums and a George Martin score. "It's All Too Much" is a wonderful song, but I wish they could have stuck it (and "Hey Bulldog" if they wanted to) on a real album. I didn't even bother to buy this one.

Abbey Road (1969) -- Their should-be final album (the release of Let It Be messed up their "swan song"), it sounds rootsier (perhaps a product of the Get Back sessions) and also darker, even the lighter numbers. They're definitely serious and sad during this one, wanting to make something grand to go out on since they knew the end had come.

Let It Be (1970) -- For a long time, I was a little annoyed by this record. Abbey Road was their true final album, and this one felt thrown-together and not as quality as the others. Now, I don't care: I like it. (The release of Let It Be... Naked probably made me realize that I do.) It's got "Two of Us," "Across the Universe," and "Let It Be," so there's not much reason to complain. Phil Spector's production doesn't bother me like it does other fans (and the Beatles themselves).

Let It Be... Naked (1970/2003) -- The title is dumb, like Paul making a John joke or something. As I've said before, Phil Spector's production didn't bother me at all on the original version, and I feel that the only reason people feel "The Long and Winding Road" was saccharine was because people have been told that over and over (mostly by Paul). Listen again: there's nothing much wrong with it. Let It Be... Naked is basically Let It Be with over 30 years of hindsight. It makes it sound like a much better album than it actually was. All the dialogue is taken out, some good songs that were left out put in, and everything is just nice and rounded out and pretty, and in a better song order. The best thing about the release, I guess, is that it lets you re-examine the album in general and realize that the songs were pretty good after all.

Past Masters Volume One (1988) -- EMI's very good idea, to release singles and EPs on a two volume set so that we can easily have all the songs The Beatles released. This one boasts "She Loves You," "I Want To Hold Your Hand," and German versions of those two.

Past Masters Volume Two (1988) -- Even better than Volume One (since The Beatles just kept getting better), this volume contains the highlights "We Can Work It Out," "Lady Madonna," the single version of "Revolution," and the hilarious "You Know My Name (Look Up the Number)."

Live at the BBC (1994) -- Nice two CD set of BBC recordings, the collection is well-produced and is as charming as The Beatles themselves.

Anthology 1 (1995) -- Though there are mixed reviews, I think the Anthology series was done very well and every Beatles fan should own them. The "reunion" song, "Free As a Bird," is good; the early-early recordings of The Beatles (or whatever they may have been called then) are interesting, and most of it is just fun to listen to.

Anthology 2 (1996) -- A treat for a studio nut like myself, this collection features plenty of alternate takes and insights to the studio tricks The Beatles were famous for. Some of the songs sound incomplete which may annoy some people, but not me. And "Real Love," the second new Beatles song, is better than the first.

Anthology 3 (1996) -- This collection works best as full, listenable songs and the demo versions and alternate takes of The White Album are definitely highlights. Disc two is less intriguing as it includes leftovers from Let It Be (redundant).

Yellow Submarine Songtrack (1999) -- The only reason to get this is if you want to hear remastered versions of a few Beatles songs (they do sound better), if you need a good copy of "It's All Too Much," or if you feel some odd need to have all the songs which appeared on the Yellow Submarine movie.

The Beatles 1 (2000) -- Well, if you need just one thing, get this. Even the most casual Beatles fans of all will know most of these songs, if not all. They're the number ones! It's wise to get all the Beatles, of course, but this is a good place to start and actually a great little collection for fans who don't feel like full albums but just want a shimmering example of why everyone liked these guys so much.

LOVE (2006) -- Created for Cirque de Soleil (don't let this throw you: it's not fruity) and produced by George Martin and his son, these are essentially "mash-ups" of Beatles song, this time with themselves instead of Jay-Z or whatever. The result is that you get to listen to Beatles songs in a new way in case you're tired of listening to the regular albums or The Beatles 1. It's interesting and kind of cool.
---
Copyright (c) Jun 2000 - Jan 2007 by Rusty Likes Music