Belle and Sebastian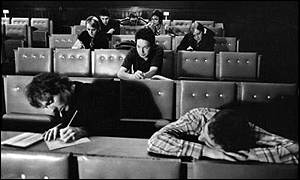 Belle and Sebastian makes wonderful, gorgeous music. Call them twee, chamber pop, whatever you want--it's lovely and sometimes perfect, and you often can dance to it. Stuart Murdoch is one of the best songwriters around.
See The Gentle Waves, Looper, Isobel Campbell
Information: Belle and Sebastian
Suggested First Purchase: Dear Catastrophe Waitress
---

Tigermilk (1996/1999) -- Belle and Sebastian's first album (not release on wide scale until 1999) was a template for things to come as well as being a tiny little masterpiece. It's one of those bands that can summon influence from various places while at the same time sounding like something entirely new. "Expectations" and "We Rule the School" are highlights.

If You're Feeling Sinister (1996) -- This album, the first that most people heard, took Tigermilk and perfected that sound. There are almost one-to-one correlations of which song from the previous album sounds like the songs from this one, but this isn't a bad thing (Tigermilk wasn't widespread, the sound was improved, and this new kind of music was just great anyway so why not repeat it). The band has moved in subtly different directions since this album, but this was a defining moment in this particular kind of music, one that would be imitated by dozens of other bands.

Dog on Wheels EP (1997) -- Belle and Sebastian spent the next year releasing three EPs in a row, four tracks apiece, proving that song-for-song, Belle and Sebastian was worth listening to. "The State I Am In" from Tigermilk was re-recorded. "String Bean Jean" is irresistible.

Lazy Line Painter Jane EP (1997) -- "Lazy Line Painter Jane" is a big jump in a new direction for Belle and Sebastian, with a guest vocalist who doesn't sound "whispy," adding to the rock and roll of this song. "A Century of Elvis" seems like a bad idea at first (the backing track to "A Century of Fakers," a song which doesn't appear until the next EP, with the vocals replaced by a Stuart David short story about Elvis), but after a few listens, it's not.

3..6..9 Seconds of Light EP (1997) -- The last EP is maybe not quite as engaging as the first two, but that's only by Belle and Sebastian standards, so it's still very good.

Lazy Line Painter Jane EP Box Set (1997/2000) -- The three EPs from 1997 were eventually re-released in a "box" (more like a slipcase). This was the only change made, since the CDs are otherwise packaged the same way.

The Boy with the Arab Strap (1998) -- Stuart Murdoch begins letting the rest of his band write songs by this point, which is sometimes good and sometimes not. "Is It Wicked Not To Care?" is one of the highlights by Isobel Campbell, but Stuart David's (another short story) "A Space Boy Dream" slows the album down a bit, and Steve Jackson's two songs about the music industry ("Seymour Stein" and "Chickfactor") just aren't up to par. Murdoch's songs are fantastic, though, and they're different from previous albums with the wonderful noise of "Sleep the Clock Around" and the danceable "Dirty Dream Number Two" and "The Boy with the Arab Strap."

This Is Just a Modern Rock Song EP (1998) -- This EP is good, but soft and slow. It's missing some of the upbeatness that helps make Belle and Sebastian so good (the combination of the fast and slow). This mostly means that it just takes longer to seep in instead of being immediately great.

"Legal Man" (2000) -- This seems more like a single than an EP, which I guess they count it as. The EPs were mini-albums without any one song as the focus (even if the EP was named after a particular song), but "Legal Man" is definitely the standout here. The other two songs (the EPs had a total of four songs, not three), while good enough, aren't as memorable. I only make this distinction because as an EP, the recording is lopsided; as a single, it's about perfect since the dead-on 1960s mod music is superb. The other cool thing is that, during this period, Belle and Sebastian released singles as they used to be released: as songs themselves, not something that was a commercial for a bigger album as we know it now.

Fold Your Hands Child, You Walk Like a Peasant (2000) -- The common criticism that this album suffers from being a "band" album instead of a Stuart Murdoch album is, unfortunately, correct. The highlights are "The Model" and the wonderful "Women's Realm," while most of the rest of the album--while good songs--aren't anything special, even sometimes boring.

"Jonathan David" (2001) -- Another three song collection, like "Legal Man," but this time the second song is as good as the single The second song, "Take Your Carriage Clock and Shove It," is a combination of "There's Too Much Love," "Lazy Line Painter Jane," and "A Century of Fakers," but this is a good thing since B&S's familiar, "ahh, this is them" songs are the best anyway.

"I'm Waking Up To Us" (2001) -- Not quite as good or interesting as the last two EPs, but some good songs, especially the title track with its horn section.

Push Barman To Open Old Wounds (1997-2001/2005) -- A two-disc collection of EPs. The first disc is essentially the Lazy Line Painter Jane EP Box Set put onto one disc. The second disc is This Is Just a Modern Rock Song EP (especially nice here, since it was never released in the USA) and the "Legal Man," "Jonathan David," and "I'm Waking Up To Us" singles. A total of 25 songs. Most Belle and Sebastian fans probably burned their own copies in some form or another of this anyway--the EPs are great, but short, so you kind of want them all together in one place--so this collection satisfies that need for die-hard fans (in a beautifully-packaged form, with a booklet showing all the original album covers) as well as those fans who never bothered to buy the EPs in the first place. Either way, hearing all these songs together is pretty amazing, and it makes you realize that Belle and Sebastian care as much about little albums as big ones. This collection also stops at a good place, since after this point they began making more standard CD singles, featuring an album track and supporting B sides. Up to this point, every song unique to the EP/single. The collection is a must, and is actually a very good intro to B&S.

Storytelling (2002) -- A soundtrack album, so it can't be judged in the same way since it's mostly going to be instrumentals. What could have made this album more perfect is getting rid of all the movie dialogue crap which always is a bad idea on soundtrack albums (this isn't the literal soundtrack, boys) and just letting the really lovely instrumentals and the really perfect "real" songs sit by themselves. Not a minor fault, in my opinion. "Storytelling," "Wandering Alone," "Scooby Driver," and "Big John Shaft" are among the finest songs Belle and Sebastian have recorded.

Dear Catastrophe Waitress (2003) -- After a mediocre album and a oddball soundtrack, Belle and Sebastian are back with a collection of perfect addictive songs. Trevor Horn produces this time, giving the album a pretty different sound from most everything else (a good kind of different--not better or worse, but good). Sometimes the songs are so perfectly crafted that they're missing that magic, ethereal element that some of the earlier albums had, but that's about the worst you can say about it. All are great songs, especially "Step Into My Office, Baby," "Dear Catastrophe Waitress," and "If She Wants Me."

"Step Into My Office, Baby" (2003) -- For the first time, Belle and Sebastian have a single where the song is actually on the LP (in this case, Dear Catastrophe Waitress). Kind of sad, since I like the idea of resurrecting the 1960s convention of having non-LP singles where the songs are good quality and not throwaways. I realize, of course, it doesn't work very well in a modern context, but the Belle and Sebastian fans seemed to like buying them anyway. I did. Of course, I liked the four song EPs even better than the three song singles, but what we essentially have here is two songs (since everyone's going to have the title track on the LP anyway). They're both good songs, especially the last one, and we also get a music video thrown in, but it still feels like we're just spending money on two songs where we used to get four. Glitch in perfect packaging or something.

"I'm a Cuckoo" (2004) -- The weirdest Belle and Sebastian release yet. It's in a digi-pac (or whatever they're called--not a jewel case) first of all, breaking the consistency. Again we get an LP version of "I'm a Cuckoo," but this time we get two new songs and a remix. The new songs--"Stop, Look, and Listen" and "(I Believe In) Travellin' Light"--are somehow too Simon and Garfunkel-inspired for me to like them a lot, so the odd standout on this single is the remix of "I'm a Cuckoo" by The Avalanches. Belle and Sebastian claim this is a cover rather than a remix, since essentially only the vocal track was used from the original (technically still a remix, of course), and The Avalanches go above and beyond. Remixes are usually crappy, with some techno drums thrown in or something, but this is a complete revision of this song as world music. Very lively and delightful. So yes, a weird release where the highlight of the album isn't really by the band.

"Books" (2004) -- The actual "single" song on here ('Wrapped Up in Books") feels sort of obligatory and unimportant. The real song featured is "Your Cover's Blown," which doesn't quite sound like anything they've done yet (in a good way) and might appeal to even non-fans of B&S. There's also a remix of this song, a pretty good throwaway song ("Your Secrets"), and an actually entertaining computer game (no, really). The singles are getting more and more bizarre, but I'm learning to embrace it.

The Life Pursuit (2006) -- Proof that Fold Your Hands Child six years ago was a fluke and that Belle and Sebastian are more or less incapable of making bad records. This is in many ways comparable to Dear Catastrophe Waitress in that it sees the band moving in different areas, each song sounding a little different from the other, and using a big-time producer to help them find these sounds (not as big as Trevor Horn, but Tony Hoffer ain't too shabby). The great thing about this album is that it prefers to be big and sunny and fast as opposed to soft and wimpy. Even the one slow song, "Dress Up In You," sounds like a better version of "Nice Day for a Sulk" and still moves at a nice pace. More highlights include "Another Sunny Day" (appropriately titled), the Cars-sounding "The Blues Are Still Blue," and "Sukie in the Graveyard," though every song is good.

"Funny Little Frog" (2006) -- The album version of "Funny Little Frog" with two mediocre (by B&S standards) B-sides. At this point, I'm mainly buying the singles for the cover art, since they're not as worthy to have as they were in the glory days (and even those were eventually compiled) and since you can buy songs online now for a buck apiece (certainly a better deal that what you pay for these tiny singles).

"The Blues Are Still Blue" (2006) -- This a single of arguably the best song off The Life Pursuit. It also contains the song "The Life Pursuit," which is good if typical, and the different-sounding "Mr. Richard."

"The White Collar Boy" (2006) -- The album version of "White Collar Boy" (the added the "The" for this title for some reason) backed with two lesser tracks.
---
Copyright (c) Jul 2000 - Sep 2006 by Rusty Likes Music