The Breeders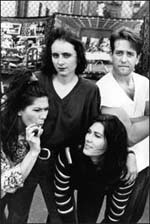 The Breeders began as a Kim Deal side project from The Pixies and ended up a great little band that made two albums before transforming into The Amps and then back into The Breeders again. The music hops all over the place while keeping a nice girl punky sound.
See The Amps, Kelley Deal 6000, The Pixies, The Last Hard Men, Slint
Information: The Breeders Homepage
Suggested First Purchase: Last Splash
---

Pod (1990) -- The best thing about this album is its spookiness. Even a cover of the Beatles tune "Happiness Is a Warm Gun" gets the creep-out treatment. The whole thing has a dark, fuzzy production that works well.

Last Splash (1993) -- This is the bright album to the dark Pod. The hit "Cannonball" is a good example of the sunniness of the album (not to mention the Go-Go-like back cover of the girls waving from a convertible) with songs like the odd "Mad Lucas" and the country "Drivin' on 9" rounding it out.

Title TK (2002) -- Nine years later, The Breeders return with this album which sounds more like The Amps than The Breeders (they even did a not-as-good version of The Amps' "Full On Idle"). This isn't a bad thing, since The Amps are good, but this isn't even as good as The Amps. It's like they made a low-key album on purpose, and maybe they did. If they made a big thing like Last Splash again, they might get more attention than they want just yet. "Huffer" is the savior at the end of the record for those who want classic Breeders.

Mountain Battles (2008)
---
Copyright (c) Jul 2000 - Jul 2008 by Rusty Likes Music