Pavement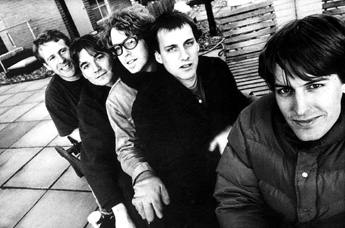 Pavement helped invent indie/lo-fi in the early 90s, so they're important if for nothing but that. However, they continued making great stuff through the decade--all sorts of smart lyrics bouncing around through rock and roll songs. They're also charmingly funny guys.
see Stephen Malkmus
Information: Pavement
Suggested First Purchase: Crooked Rain, Crooked Rain
---

Slanted and Enchanted (1992) -- One of the most influential albums of the 90s, helping to start the lo-fi revolution and define the sound 90s indie rock. The album opens with "Summer Babe (Winter Version)," and it still sounds as brand new today. The album zips through with jagged song after jagged song, featuring the other highlights "Here" and "Our Singer."

Watery, Domestic EP (1992) -- Four songs that are as good as the ones on Slanted and Enchanted, especially "Frontwards."

Westing (By Musket and Sextant) (1989-1991, 1993) -- This is a collection of EPs, singles, and other rarities which preceded Pavement's full-length. Although you can hear how pioneering these tracks are, until it gets to the blazing "Summer Babe" (where the collection picks up, with four songs left), it's kind of a boring collection of Sonic Youth-like noise. Songs like "Forklift" even sound like Half Japanese. Highlights include "Box Elder" and "Baptiss Blacktick."

Crooked Rain, Crooked Rain (1994) -- A more cleaned up version of Slanted and Enchanted, getting past the noise and into well-constructed songs. Pretty much every song is great, especially "Stop Breathin'," "Cut Your Hair," "Gold Soundz," and "Range Life." Probably their best album.

Wowee Zowee (1995) -- An album that sounds like the title, crazy songs flying around all over the place. Sometimes this is a good thing, but sometimes just when you're getting into the song, it switches to a different style of song within the same track, like "Best Friend's Arm." Some of them freak out nicely, though, like "Brinx Job," "Serpentine Pad." The more straightforward songs like "We Dance," "Rattled by the Rush," "Grave Architecture," and "AT & T" also work well. Even if all of it doesn't work, it's always entertaining and probably the most influential album of this sort since The Beatles' White Album.

Pacific Trim EP (1996) -- Like Watery, Domestic to Slanted and Enchanted, this EP gives four songs that are a little more cleaned up than the full-album predecessors.

Brighten the Corners (1997) -- All polished up by Mitch Easter, this album has some of their betters songs ("Stereo," "Shady Lane," "Transport Is Arranged," "Type Slowly"), even if lots of the rest of the album is slower and more boring.

Terror Twilight (1999) -- Cleaned up even more by Nigel Godrich, the album also has some winners ("Spit on a Stranger," "Major Leagues," "Carrot Rope"), but it simply doesn't match up and you're tempted to go back to earlier albums for what you like about Pavement. It turned out to be their last.

Slanted and Enchanted: Luxe and Reduxe (1992, 2002) -- The ten year anniversary re-release of the album basically collects anything worth hearing from 1992: the Watery, Domestic EP, outtakes from the albums, live shows, radio sessions, etc. A pretty wonderful collection with great packaging.

Crooked Rain, Crooked Rain: L.A.'s Desert Origins (1994, 2004) -- The only real "problem" with these re-releases is that they're a whole lot to absorb, and sometimes not very listenable as a whole thing... but the excess is what makes them work. This collection is perhaps even more interesting than the Slanted and Enchanted deluxe version, with true outtakes and never-before-heard stuff from the 1994 era.

Wowee Zowee: Sordid Sentinels (1995, 2006) -- The re-release of this album includes songs on the "Ratted By the Rush" and "Father To a Sister of a Thought" singles, the Pacific Trim EP, live recordings, stuff from soundtracks and compilations, and more: anything from this era.
---
Copyright (c) Aug 2000 - Nov 2006 by Rusty Likes Music