Stephen Malkmus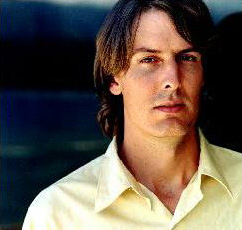 Stephen Malkmus was the guy in Pavement who is now the guy who is solo (or, actually, with his band he calls Jicks) and makes songs that still sound like what Pavement might have sounded like. Maybe more fun.
see Pavement
Information: StephenMalkmus.com
Suggested First Purchase: Stephen Malkmus
---

Stephen Malkmus: Stephen Malkmus (2001) -- With the exception of the first song, this is more zany and fun than the usual Pavement (though Pavement could be fun, of course). Fun like goofy, catchy fun. The really cool thing about this album is that the first few times you hear it, it's catchy as hell, but unlike most catchiness -- which eventually fades and then becomes just dull, making less originally-catchy songs more important/listenable in the end -- the catchiness of this album actually increases with each listen, and furthermore the songs deepen with further listens within this realm of super-catchiness. It's a pretty amazing thing to pull off.

Stephen Malkmus and The Jicks: Pig Lib (2003) -- A letdown in comparison to the debut album, this one only has or or two that stand out in any substantial way, though most of it is good enough. Oddly enough, the bonus CD that came with the limited releases (at least the first two songs) is much better than the real album.

Stephen Malkmus and The Jicks: Face the Truth (2005) -- Nothing has passed the original glee of the first solo album yet, but this one is a lot more interesting than the second. The experimental-style instrumentation is back, as is the regular ol' good songwriting. Parts of it are duller than others, but most is worth hearing.

Stephen Malkmus and the Jicks: Real Emotional Trash (2008)
---
Copyright (c) Jul 2000 - May 2008 by Rusty Likes Music