They Might Be Giants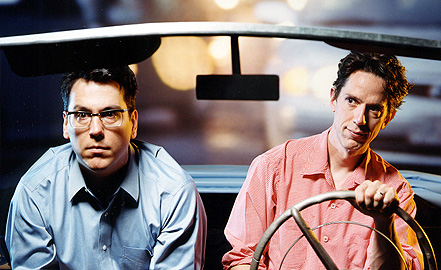 They Might Be Giants are too good to be true, a couple of intelligent dorks who have made a career out of making catchy songs that sound like a cross between rock, children's music, and commercial jingles from before 1950.
see Mono Puff, John Linnell
Information: They Might Be Giants
Suggested first purchase/album collection: Then--The Earlier Years
Suggested first single album: Flood
Suggested best of: Dial-a-Song
---

They Might Be Giants (1986) -- What a wonderful fresh form of music this album brought to the world and to an eleven-year-old boy named Rusty. Drum machines, accordions, crazy guitars, nasal vocals, clever lyrics, and some of the most sing-along tunes ever written. I'm describing not only this album, but most of TMBG's career. Some of the highlights include "Everything Right Is Wrong Again," "Put Your Hand Inside the Puppet Head," "Don't Let's Start," "She's An Angel," and "Rhythm Section Want Ad," but these are only five of the almost-perfect nineteen songs included here.

Lincoln (1988) -- A slightly "harder" sounding album (such as the opening guitars of the great "Ana Ng"), it's a follow-up that doesn't change format from the first album and works just as well, maybe even slightly better. Some of the other highlights include "Purple Toupee," "The World's Address," the beautiful and touching "I've Got a Match," "They'll Need a Crane," and the classic "Shoehorn with Teeth."

Miscellaneous T (1991) -- A thoughtful collection of early EPs and B-sides (they should be more consistent with these). Not as interesting as the regular albums, but full of great songs like "Hey, Mr. DJ, I Thought You Said We Had a Deal" and "We're the Replacements."

Flood (1990) -- A brand new batch of great songs on TMBG's major label debut. Though the first two albums have a certain homemade magic to them, the slightly-polished songs sound pretty good, the early 90s production being only very slightly dated (it sounds a bit thin, or too precise). This is the one that has "Birdhouse In Your Soul," "Istanbul (Not Constantinople)," the lovely "Dead," the classic "Particle Man," "Minimum Wage," the brilliant "Letterbox," and the theme song "They Might Be Giants."

Apollo 18 (1992) -- At this point, TMBG begins to get away from their factory-made sound and delve into more organic stuff. This would come to fruition with John Henry, but we get some touches of it here and see that a little goes a long way. Although this is a great album, it doesn't feel as fresh as the first three, and the latter half of the album sags a bit. The highlights include "I Palindrome I," "Mammal," "The Guitar," and "Dinner Bell." The album also contains the "Fingertips" suite, a collection of twenty-one incomplete songs that sounds like a (very long) TV commercial for TMBG if they were on K-Tel.

John Henry (1994) -- It'll take about ten years of on-and-off listening for this one to finally penetrate in any way. TMBG went full-blown organic with this one, utilizing producer Paul Fox and an actual band rather than their usual collection of accordions and drum machines. I wouldn't mind that they did this (I don't think people should stick with something just because they started with it) if the results were good, but they're not compared to what they've created before. The album is still the most boring TMBG has put out, even after those ten years. Still, it's got plenty worth listening to, the bookends of the album being the best: "Subliminal" and the beautifully sad "The End of the Tour."

Factory Showroom (1996) -- TMBG find the perfect mix of full band bigness and their crazy old sounds with this album, and they sound really refreshed. It seems like more than two years has gone by, or that they've gone back in time somehow and regained their youth from ten years previous. As the band gets older, they're more interested in regular songs, so most of these are fully-developed, with none of the sketchiness of previous releases (which is a good or bad thing, depending on who you ask). The highlights here are "S-E-X-X-Y" (the 70s riffs brought tiny tears to my eyes when I first heard this as a tenderhearted twenty-one-year-old), "Till My Head Falls Off," "Exquisite Dead Guy," "Metal Detector," "I Can Hear You" (which surprisingly holds up, even though it was recorded on a Thomas Edison cylinder), and "The Bells Are Ringing."

Then: The Earlier Years (1986-1991/1997) -- Released in 1997, this box set contains TMBG's first three collections (slightly remixed for quality) along with nineteen songs from their Dial-a-Song service, making this the collection to start with for anyone and making it unnecessary to buy the three albums separately (unless you just want to hear them as a single item, not all run together, which is understandable).

Severe Tire Damage (1998) -- This live album doesn't work. Actually seeing the band perform is great, but for this reason it sounds like we're missing 75 percent of the fun. None of the live versions are better or even that much different from the studio versions, so the whole thing seems kind of pointless (just like the seemed-like-a-good-idea-at-the-time inclusion of several minutes worth of ad lib songs about The Planet of the Apes). The best track is the opening studio number, "Dr. Worm."

Long Tall Weekend (1999) -- TMBG begins working with EMusic and their downloadable MP3 albums. It's nice I guess that TMBG want to put out some quick stuff for fans, but you end up paying as much as a regular album for crappy MP3s and no packaging--and for songs that eventually get put out in better forms anyway (as most of these songs eventually did). I eventually learned to never download TMBG MP3s (they put out a zillion on their page and stuff too) and only to buy full-length (no EPs) albums. Everything else will have to wait. The songs themselves on Long Tall Weekend are almost all good, but eventually the album becomes pointless.

Working Undercover for the Man (2000) -- Another MP3 album. The first five songs were eventually released elsewhere and three tracks are radio spots. An alternate version of "Robot Parade" is here, but I'm sure it'll eventually be released somewhere else. Another waste of time for anyone who doesn't absolutely need TMBG songs available in downloadable form on a daily basis.

TMBG vs. McSweeney's (2001) -- And yet another weird not-really-an-album project TMBG put out (since, these days, they seem like the arty song-churners for any "hip" establishment that needs a tune: Malcolm in the Middle, The Daily Show, and now the too-hip-for-its-own-good McSweeney's literature and art magazine). The idea is that TMBG wrote a song for each piece in the magazine that issue and that you should read them while listening. A funny enough premise. As songs, though, there are only a few that are "real" (most are a few seconds which spit out the title of the piece), "Bangs" being the best one (and of course it would appear, as a different mix, on the next album). Making matters messier is the inclusion of non-TMBG tracks by Doughty, Phillip Glass, and others. Of course, this isn't a proper TMBG release anyway so much as a weird Dave Eggers thingamabob.

Mink Car (2001) -- Finally, after five years of non-album junk, a real album. At first, since I had already heard most of these songs in other forms, it felt more like a collection than a new album, but after a couple of years that effect wears off (people who follow my TMBG album-buying policy will never have to worry about these things) and you're left with thirteen fantastic songs. The highlights are the delightful "Bangs," the disco play-it-loud "Man, It's So Loud In Here," the best love song they've ever done "Another First Kiss," the superclever "Older," the sexxy "Mink Car," and the addictive "Wicked Little Critta."

Holidayland EP (2001) -- An EP that collects all of their holiday songs: a new cover of "Santa Claus" and other stuff that appears elsewhere--"Santa's Beard" from Lincoln, "Feast of Lights" from a Hanukah compilation, "Careless Santa" from Mono Puff, and "O Tannenbaum." Even though most of the songs can be found in other places, some of those places are hard to find and it's kind of nice to have it all together like this on whimsical Christmas nights.

No! (2002) -- Maybe the best children's album ever made, for adults. It's TMBG showing that they still got the goods that we thought they might have lost a while back, making two great albums in a row. The highlights are "No!" "In the Middle, In the Middle, In the Middle" which was perfectly sung by Flansburgh's wife, "The Edison Museum," and "Sleepwalkers." The animations that The Chopping Block did for the CD-ROM portion of this CD are maybe the only CD-ROM content to this point I've ever seen on a music disc actually worth having, and worth seeing more than a few times, especially for kids who I could imagine looking at it every day. There are only a few annoying things on the album, like the overall impression I get that the boys are painfully trying not to condescend, a fear true children's records don't have, but the best news is that it's an album anyone can listen to over and over.

The Spine (2004) -- This sounds almost exactly like a They Might Be Giants album. There's nothing "wrong" with any of these songs, but that's somewhat become TMBG's problem lately: that they've gotten so good at writing songs that the songs themselves are perfect in terms of craft but not in terms of anything really interesting to hold on to. Listen to this and then listen to anything from, say, Flood and there's no comparison. Listenable, even "good," but sub-par for TMBG.

Here Come the ABCs (2005) -- Another good kids' album, this one being more of an actual children's album than No! which was sort of a regular TMBG album parading as a kids album, like a concept album where they actually believed the premise. But this one's pretty straight up, which isn't a bad thing for adults in that all the songs are fun and singable, even if they sometimes feel more "light" than the regular stuff.

They Got Lost (2005) -- A collection of rarities, mostly from the MP3 albums Long Tall Weekend and Working Undercover for the Man. This collection might have been perfect if it had been a complete collection of their "internet phase," but many songs are missing. There's plenty of room for them, since most songs on They Got Lost are under three minutes. One day someone (if not TMBG themselves) will get all of TMBG's stuff together and put out some ultimate rarities collection, but until then these are still pretty cool. All the songs on here are interesting, and rounding out the collection is stuff from the McSweeney's CD, the "Brave New World" special, "This American Life," the Chopping Block web design, the "Battle of the Bands" concept, and a live performance.

Venue Songs (2005) -- TMBG recorded a song for every venue they played during their 2004 tour and collected them here in a DVD/CD set. The first eleven tracks are the studio-recorded versions of what they considered the best of these (the DVD also has videos for these) and the rest of the 46 tracks are all of the venue songs as they were performed during the shows (more or less--there are five bonus tracks and other songs that don't exactly seem like live recordings). No song is much longer than two minutes (most are closer to a minute), but most are also enjoyable, and the CD is an hour and ten minutes (and the DVD is well put together, mostly with animation), so it's worth getting if you're a fan. Much better "snippets" than the McSweeney's thing.

The Else (2007) -- Similar to The Spine in its familiarity, with highlights including "Take Out the Trash" and "The Cap'm," this one -- like John Henry -- might sink in after several years. For right now, however, the bonus CD (Cast Your Pod to the Wind, a podcast collection) is actually the real reason for having this. It has a few outtake-y tracks (which are also good), but most of them are what I wish they'd do for their albums, including "Why Did You Grow a Beard?" which should be as classic as "Don't Let's Start" or "Shoehorn with Teeth." The bonus CD is more proof that TMBG are best when they are carefree and zany, not constricted by the Dust Brothers or whoever.

Here Come the 123s (2008) -- The sequel to Here Come the ABCs, with slightly better songs (including "One Hundred Monkeys," "Eight Hundred and Thirteen Mile Car Trip," "Ooh La! Ooh La!" and their work from the Mickey Mouse Clubhouse TV show).
---
Copyright (c) Oct 2000 - May 2008 by Rusty Likes Music